China KSD301 Series Temperature Control Switch manufacturers - Haichuan
KSD301 Series Temperature Control Switch.

KSD301 is a single pole, snap action, automatic reset circuit breaker of Aluminum Alloy cased, provides a compact profile, broad design flexibility and versatile mounting options. designed to protect wiring harnesses.
Special Features:
● Miniature size, convenient in installation;
● Automatic reset
● Meets or exceeds the most demanding specifications in a variety of AC and DC applications.
● Terminals are optional and customized..
● Contact type: B-Normally open, K-Normally closed
Electrical Characteristics:
● 12VDC / 24VDC: 10A~15A
● 125VAC / 250VAC: 10A~16A
Technical Parameters:
● Available with nominal calibration temperatures from -10℃-300℃.
● Temperature Code: ±3℃,±5℃
Main Applications are as follows:
● Automotive diesel oil filtration heating
● Heating tube , heating pad
● Soybean milk machine, paper shredder, electric kettle
Product Coding:
KSD301 **** * + A10

MODEL NO.  Ⅰ  Ⅱ                       IV  WEEK AND YEAR OF CALIBRATION
TEMPERATURE CODES         Ⅲ      
                        CONTACT TYPE
NO. Comments
Ⅰ MODEL NO.: KSD301 Series Temperature Control Switch
Ⅱ TEMPERATURE CODES: From -10℃ to 300℃
Ⅲ CONTRACT TYPE: B-Normally closed, K-Normally open
Ⅳ YEAR OF CALIBRATION: A=2000 through Z=2025;
  WEEK OF CALIBRATION: 1~52 possible
The actual export volume of this product has exceeded the plan.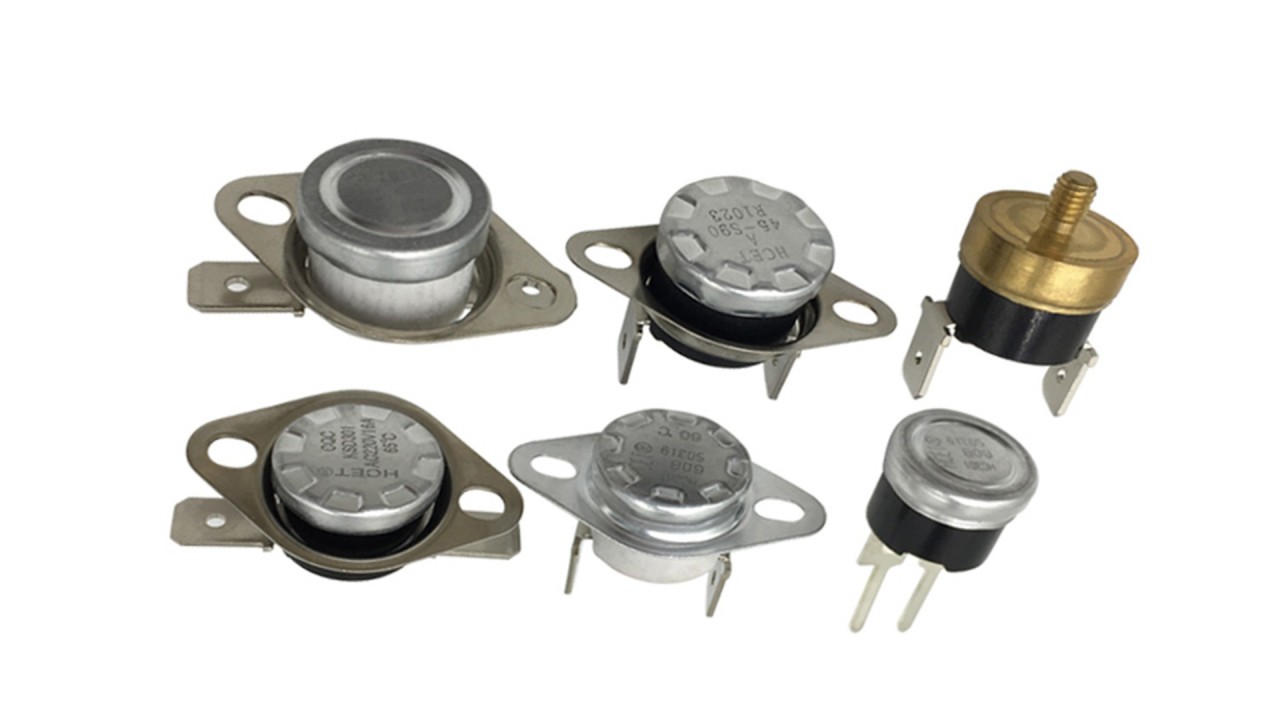 FAQ
1.What certificates you get ?
We have get 5 certificates --CQC : GB/T14536 , ISO/TS 16949 , EN 60730 , UL60730-1 and some products design rights.
2.Are you a manufacturer?
Yeah. We are. And we own 3 workshops, 2 offices about 100 workers.
3.What is your website?
www.hcet.cn, www.hcet.en.alibaba.com, www.hcet-cn.com
Advantages
1.Domestic independent brand -HCET®.
2.ISO/TS 16949-certified, TUV, UL, CQC.
3.We have experiences engineers teams, developing many products, and get many products rights.
4.100% inspection before shipment.
About Haichuan
Nanjing Haichuan Electronic Co., Ltd. located in Luhe Economic Development Zone, Nanjing city, Jiangsu province, China, it was established on August 5th, 2010. It is a high-quality thermal protector, temperature switch, over-current protector manufacturers, vigorously introduce Austria, the United States and other places technology and more than 20 advanced equipment, especially committed to the automotive field of high-reliable Protector R & D and Manufacturing! The company has passed the ISO/TS16949 quality management system certification and has a number of independent Patents. Its products have passed the international safety certification of many countries such as UL, TUV, CQC, PSE, etc. Products are widely used in glass elevator motor, wiper motor, skylight motor, car water tank, car heating pad, white household appliances and other occasions that need reliable and safe protection, is one of the most complete specifications in the field of automotive electrical protectors, the company has become an excellent supplier to the cooperation units of many mainframes manufacturers in China. More than 60% of the company's products are exported to the United States, Canada, the European Union, Brazil, Taiwan and other countries and regions. With the company's mature technical strength and sound management system, to provide customers with cost-effective products and services.
IF YOU HAVE MORE QUESTIONS,WRITE TO US
Just tell us your requirements, we can do more than you can imagine.
Copyright © 2021 Nanjing Haichuan Electronic Co., Ltd. - All Rights Reserved.
Choose a different language
Current language:English